| | |
| --- | --- |
| From small products such as stationery and IC cases to large products including interior and exterior construction materials, these products are used in every industrial field. | |
Usage example
Housing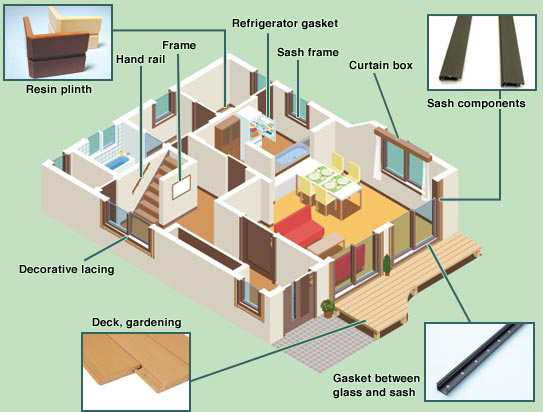 Retail products
| | | |
| --- | --- | --- |
| | | |
| Displays | | Outer case for ballpoint pens |
Office products
| | | |
| --- | --- | --- |
| | | |
| Electronic whiteboard components | | Partition components |
Extruded Products
Two-color molding

Two resin materials with different hardness's can be molded together at the same time. This technology is used in the production of gaskets, where the softer portion maintains airtightness and the harder portion holds the softer portion in place.
There are several types of two color molding, including a surface covered type (where a hard material is covered with a soft material), a sandwich type (where different colors and hardness's of materials are partially sandwiched), and a protrusion type (where soft material protrusions are created on the hard material body).

Composite molding

Composite molding is a technology where quite different materials like resins and metals are molded together, whereas two-color molding is a simultaneous molding of different resins. This technology is used in molded products like our synthetic lumber and SK series, which are high strength and reduce linear expansion. Such properties cannot be obtained with a single resin. There are several types of this process, including an insert type (where metal plates are included in the resin) and a surface adhesion type (where metal plates are adhered to the resin surfaces).

Foam molding

This is a molding technology where the resin is low-formed chemically. This technology reduces product weight and improves quality. Expansion and contraction due to temperature change is reduced and it is possible to mold scratch-resistant products by adjusting the skin layer (surface layer) to increase surface hardness. Additionally, these materials can be saw cut, nailed and tucked and are widely used in housing interiors and exteriors as lumber substitutes.