Single out-swinging window
Double out-swinging window
Double-hung window
Outward projecting window
Back door
Balcony door
Deck door
Terrace door
Features
Easy to operate! Mesh roll-up speed is adjustable!

By sliding the screen and releasing the magnetic lock, it is stored automatically.
Mesh roll-up speed can be adjusted by simply turning the adjustment dial with a screw driver!
To adjust the speed, open the storage cover of the mesh, and then turn the speed adjustment dial with a screw driver.
The mesh is rolled up slowly by an oil damper. (Patented product)
Easy to clean!
The mesh is kept clean as it can be stored when not in use.
| | | | | |
| --- | --- | --- | --- | --- |
| | | | | It is easy to clean the mesh outside surface by using roll-up function! In addition, this work can be performed from room side safely. |
| Slide out the mesh. | | Wipe off the dirt on the room side surface. | | For the room side surface, open the storage cover and place a cloth on the roll-up shaft. The mesh will be clean by sliding in/out the mesh in this situation. |
Easy care!
The mesh is easily replaced. (Patented product)
Fix a spring with the screw driver.
Tighten the screw to lock rotation.
Remove the used mesh from the slide bar side.
Remove the used mesh along with the guide rail, and install the new mesh following the reverse procedure.
Outstanding protection against insects

At the top and bottom of the mesh, the "guide rail system" features a detachment-proof fastener! This prevents insects from entering.
Also, this system prevents the mesh from detaching in the wind.
Compatible with high sashes and wide sashes!
Madoroll fits openings up to 2,700 mm in width [W] and 2,700 mm in height [H]!
Fits a wider variety of installations.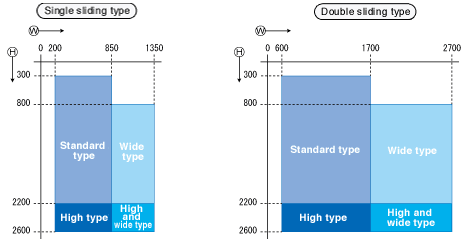 Product variety
| | | | | | |
| --- | --- | --- | --- | --- | --- |
| White | Silver | Stain color | Bronze | Dark bronze | Black |
| | | | | | |
Installation example